Helpful Infographic About Emergency Survival Kits For Dogs
In the following post, we will look at an infographic we recently had made. The reason we had it made was to help people properly prepare for emergencies. In a similar way to a 'go bag' that many organisations and charities are encouraging people to have ready in their car or home if a natural disaster, terrorist attack or some other kind of emergency occurs; we feel it only makes sense that pet owners should do the same for their beloved animal friends.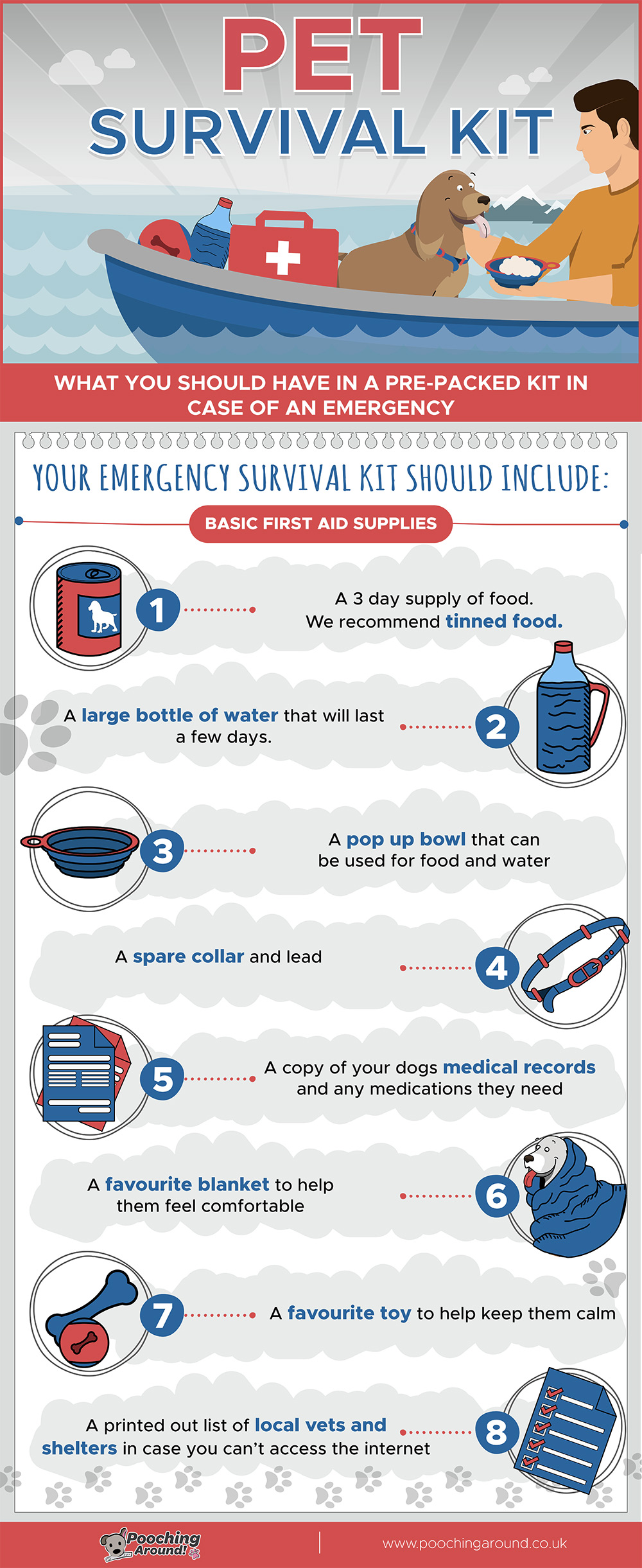 Items To Prepare And Why
The infographic outlines the basics that all animal emergency survival kits should have, including:
At least 3 days worth of food, tinned food being the best choice.
A large volume bottle of water that will last a number of days, at least.
A pop-up bowl that can be used both for water and food, particularly if you are on the move a lot.
A spare collar, in case the one your pets are wearing just now breaks or is damaged.
Copies of all their medical records and the medications they need, if any.
Their favourite blanket to try and help them feel secure and comfortable, even if they are away from home and in a strange and new environment.
Their favourite toy to help them feel as calm as possible
A print of local shelters and vets in your area, possible even region or county just in case you can't get access to the internet or any other means of checking for phone numbers and addresses.
Why Emergency Preparedness Is Essential
So being prepared for the worst to happen can help you to be ready for when natural disasters or attacks force you out of your home and on the move with your beloved four-legged friend. It will be hard to eliminate all the fear and panic in a situation like that for both you and your pet, but your emergency preparedness will help reduce it significantly.
Encourage Friends And Family Members To Do The Same
We think it is also a good idea to have escape plans and routes ready for when you need to get out of your home and possibly even town as soon as you can. Establish meeting points for you and your family or friends that perhaps don't live in the same household as you and encourage them, if they are pet owners, to also look at our infographic so they know exactly what to put into their emergency survival kit.
 by pooch